Snow Day Fun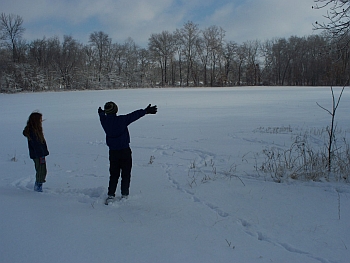 Art and PE Class
The last three days we have been snowed in and I thought I'd share a little about how we had a fun school day while everyone else had school closings (oh, those poor kids)... lol.


First, we had a photography class. I handed them a camera and had them go out and take some pictures. When they came back. I went out and took pictures. We then worked on computer skills as we put them on CD/DVDs for easier viewing. Finally, as we were watching our slide show of snow and fun in the snow pictures...I discussed with them composition, the concept of threes, contrast using light and dark and how to capture that contrast.

Next, we have fields...and when covered with snow they become big huge blank canvases. Art Class and PE combined as we run and draw and create images in the fields of snow.

Yes, we also had some regular school day subjects, but it wasn't so much as to make them feel deprived of the joy of having a snow day. It is just that we make our snow days-fun school days.


What do you do for fun on snow days? Anyone have a snow cone recipe?
Join in and write your own page! It's easy to do. How? Simply click here to return to Kid's Creations.