Mom's ideas
by Lydia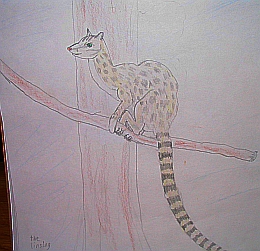 Linsing
Christmas and New Year's Day has passed. Now my mom says it is the year of F3 (faith, family, and friends.)Then she said "for family we should spend one day of the week together watching a movie or something" or for friends "maybe we could invite some other kids over"...we might want to clean our house first... or for faith "we should read the bible every night" mom also says that we should do something like basketball or art for one hour a day I chose drawing...animals, of course. Have a Happy New Year everyone.

Here is a picture of one of my drawings from last year.
Join in and write your own page! It's easy to do. How? Simply click here to return to Homeschool Laudo Lydia Interactive.